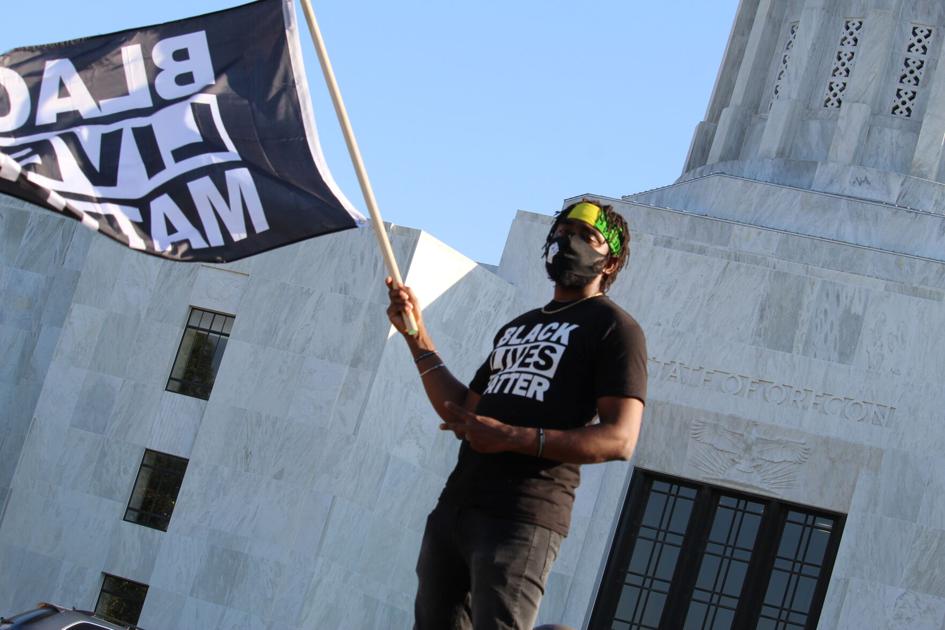 Oregon Campaigners Rally For Police Corps Cameras Amid Looming Budget Cuts For State Cops | Oregon
(The Center Square) – Cops in Oregon are not required to wear body cameras under state law, a reality activists in Oregon want to change for good.
Activists gathered at the Oregon State Capitol in Salem on Tuesday night to demand that body cameras be mandatory for all Oregon law enforcement personnel.
Hosted by local restaurant owner and longtime activist Jonathan Jones, the event saw community members share stories about their own experiences with law enforcement.
Jones launched a petition in July, calling on the Salem Police Department to require body cameras. The petition calls for suspension of officers who turn off their cameras while on duty, a public archive of body camera images, whistleblower protection for officers reporting misconduct and de-escalation training. The petition has since garnered 1,827 signatures on Wednesday.
Jones called on the city to increase funding for body cameras out of the Salem Police Department's current budget of $ 48.8 million.
"They have a lot of money that can be reallocated," Jones said. "I know it's possible because corporations and businesses reallocate their funds all the time."
Construction on the new Salem $ 28 million police station continues this year as the city faces an $ 8 million budget deficit.
A pilot program Equipment for Portland Police Bureau officers with body cameras was canceled during development by Portland City Council earlier this year in light of a $ 75 million budget deficit.
A deaf immigrant born and raised in Jamaica, Rian Gaile attended the University of Washington, DC and lived in Oregon for the past seven years while working as a sign language interpreter in a number of cities such as Salem. and Portland.
"In Jamaica, we also suffer from police brutality, but here we have higher standards," interpreted Gaile. "We have body cameras. The technology is at our disposal. We don't have the same type of racism in Jamaica, but here we have racism in addition to brutality.
Portland Police Department The data shows that over the past decade, 20 percent of all subjects in shootings involving officers in Portland were black.
Gaile recalled instances where officers did not use notepads or texts to communicate with him. He argues that body cameras can help hold police accountable for providing reasonable accommodations to members of the deaf community like him.
"If we have a body camera, we recorded what they told me and what I signed to them," Gaile interpreted.
A status report showed that black drivers made up 5.1% of all traffic stops in Oregon over the past decade, despite 2.2 percent of Oregon's population.
In contrast, the state report found that white drivers made up 77.4% of all traffic stops over the past decade, compared to 86.7% of Oregon's population.
Julianne Jackson described how guns were fired at her as a child by police and how she was humiliated by an officer while in juvenile custody for sharing her story on surviving abuse sexual. If the officers she interacted with had worn body cameras, she said, police might have a better understanding of why communities of color are wary of them.
"The way this officer spoke to me and disrespected me, I will never forget it," Jackson said. "Just the way they made me feel responsible, that it was my fault."
Diversity trainings, Jackson said, are not the ultimate solution to alleviating police misconduct, citing times when police would not step in to protect them from a longtime stalker.
"There's no evidence that if you're not open-minded, any type of diversity training will help," Jackson said. "I could give you diversity lessons until the cows come home and that won't change your bias."
Today, most Oregon State Patrol vehicles and officers are equipped with cameras, according to PSO Captain Timothy R. Fox. That comes with a price tag of around $ 100 per month in data storage costs, Fox said.
Oregon State Law also requires video footage to protect the identity of suspects, letting agencies spend thousands of hours editing footage before making it publicly available.
The Portland Police Department was hit by a trial last month for recording a live video feed of the faces of protesters against police brutality.
The Oregon State Police Department currently accounts for $ 535 million of Oregon's $ 80.8 billion biennial budget.
Budget cuts proposed by Oregon lawmakers before next week's extraordinary legislative session delay vehicle and ammunition purchases for the Oregon State Police Department.
The cuts proposed by Oregon Gov. Kate Brown in May would be slash the department's budget up to $ 27 million, cutting nearly 200 jobs, mostly in rural areas.
The Oregon State Legislature is meeting for its second special session this year starting Monday, August 10.